[sb_easy_image num="3″ order="random" size="thumbnail"]
The World Heritage Site of the City of Bath and the stunning countryside surrounding it is one of England's most beautiful places to visit.
Bath is unique. Its hot springs, Roman Baths, splendid Abbey, magnificent Theatre Royal and Georgian stone crescents have attracted visitors for centuries. Set in rolling countryside, just over 100 miles west of London, it is a beautiful and unforgettable place to visit.
Bath has also had a long tradition of providing hospitality, and we aim to show the variety that is currently available in this visual guide to pretty much every Bath restaurant. We hope that it will be a valuable resource for residents and visitors alike looking for places to breakfast, lunch, and dine. Please do feel free to contact us with any feedback, comments, or news items.
We now have a Reviews section where anyone can submit their own responses. We are also very happy to have new Bath Restaurant reviews – just drop us an email via the Contact page. Your experiences, good or bad, are very welcome and it only takes a few seconds to register.
Almost every type of international cuisine is present in Bath, with Chinese, Thai, French, Italian and Indian being particularly well represented, along with some particularly good seafood restaurants. Bath also has some exceptional takeaways, with Schwartz Brothers getting a special mention for quality, consistency, and longevity, having been something of a Bath institution for over 20 years.
Recent features include a section on dining in the open air – Alfresco eating in Bath and Bath's romantic restaurants.
We have attempted to include most of the take-aways and everywhere in Bath that sells food that can be eaten on the premises, from the hotdog man in Green Park Station to Michelin-starred restaurants. As the distinction between the ordinary pub and a restaurant is becoming increasing blurred we have now started to included them, and we have a feature on some of the best Bath Gastro Pubs. A guide to all the pubs in Bath can be found here.
The food scene in Bath is not just about restaurants. The 2007 and 2008 Taste of Bath Festivals were held in Victoria Park under the Royal Crescent, and the 2010 Bath Festival of Food and Drink was held in the same location.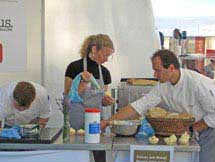 A regular Farmers Market is held in Green Park Station on Saturdays, and there are occasional Continental Markets in Queen Square. There are, amongst others, Chinese, Italian and Polish food shops. Walcot Street has been home to Harvest Natural Foods since 1971, a workers co-operative that supplies the best of natural, non-GMO, vegetarian food and ecological products. There are also a couple of excellent cheese shops. It is worth seeking out Eades Greengrocers (behind the Royal Crescent) for extremely fine locally grown veg.
Bath is also home to the Bertinet Kitchen a purpose built cookery school. Richard Bertinet, owner of The Bertinet Kitchen and Bakery was named as BBC Food Champion of the Year at the BBC Radio Food & Farming Awards 2010.